Let the Adventure Begin
Activities for Kids
Mochi Tsuki has something for all ages, and Virtual Mochi Tsuki does, too! Here are some tips to navigate through the site and find activities that are especially kid-friendly:
Did you try last year's Virtual Scavenger Hunt? Complete the hunt and learn all about Mochi Tsuki! (Sorry--the Historical Museum will not be handing out treats this year.)

2. Download the Word Search and learn words associated with Mochi Tsuki.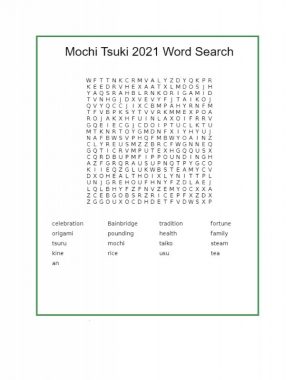 Download the answer key here.
3. Listen to an adorable reading of "Thank You Very Mochi," a story about how family and tradition are at the heart of Mochi Tsuki. Visit our History page, "Tradition and Family Are at the Heart of Mochi Tsuki."
4. Watch a first hand account of what it's like as a kid to volunteer at Mochi Tsuki.  Visit our History page, "A Young Volunteer's Perspective."
5. Try your hand at Origami folding. The examples are simple, and some of the tutorials are taught by Maggie Hitchcock, the Art teacher at Sakai Intermediate School.
6. Watch a Taiko show, and learn how to play a piece on the taiko drum. The performances by Seattle Kokon Taiko are exciting, and the lesson is wonderful.
7. Have you ever pounded mochi at Mochi Tsuki? Then you'll want to meet master pounder Shoichi Sugiyama.
8. Visit our online store and buy merchandise to support BIJAC!
9. Who are the baby mochis? Read about them here.
Good luck, and Happy Exploring!