Manzanar food – Iku Watanabe (OH0024)
Transcript
Our first meal was rice, canned spinach, canned wieners, and we had pudding, bread pudding. It wasn't anything good, just so I could, bread, was crushed. And I swore they gave us sage brush that they must have cooked sage brush. And we never ate canned spinach either, we were raised on Bainbridge Island and we had fresh everything. And so we, uh, canned spinach, canned wiener too.

We never heard of canned wiener and it was not good and to this day just like recently, I have tasted bread pudding. Everybody says it's so good, so I says, "Well, I'll try it," and it was good. But what we had wasn't good and no wonder everybody started to gain weight because we had all starches.
Video Interview — August, 2007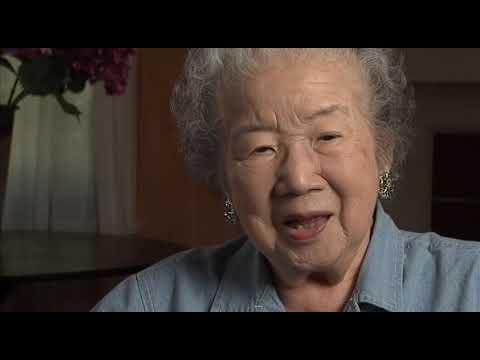 Iku Watanabe
Iku Amatatsu Watanabe was 18 years old on March 30, 1942; the day the Bainbridge Island Japanese were evacuated. She is the youngest of four sisters.