Books for Adults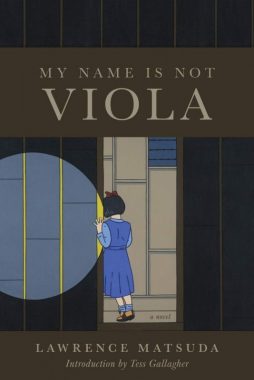 On December 7, 1941, forces of the Japanese Empire attacked the American naval base at Pearl Harbor and left hundreds of American military members and civilians dead or wounded. In response to the surprise attack, the United States declared war on Japan the next day. The attack on America inflamed anti-Japanese sentiment and hysteria that led to hate crimes, particularly on the West Coast, against aliens and US citizens of Japanese extraction—and those who looked like them.
Under President Franklin D. Roosevelt's February 1942 Executive Order 9066, the US government forcibly removed 120,000 people of Japanese ancestry from their homes and incarcerated them in concentration camps.
The detainees included Hanae and Ernest Matsuda who, with removal in 1942, lost their home and grocery business in Seattle. Like thousands of others, they were evacuated without due process and were incarcerated at the Minidoka concentration camp in Idaho where Hanae gave birth to two sons and a stillborn child.
Hanae and Ernest Matsuda's youngest son Lawrence was born in 1945 in Block 26, Barrack 2, of Minidoka Camp. Their baby's prisoner number was 11464d.
Now Dr. Lawrence Matsuda, a renowned Seattle writer and human rights activist, brings to life his mother's travails, traumas, and triumphs in mid-20th century America in his debut historical novel My Name is Not Viola. The events experienced by the fictional Hanae of the novel mirror actual incidents in the life of his mother including her girlhood in Seattle's Japantown; her pre-war journey to Hiroshima, Japan; her removal from her Seattle home and incarceration at the brutal Minidoka concentration camp; her quest for Hiroshima relatives after the atomic obliteration of the city; her marital woes; her severe depression and incarceration at Western State Hospital, a psychiatric facility; her resilience grounded in Japanese and western beliefs; and her evolution as a force for good.
The novel captures the rhythm of life in Seattle's Japantown, the unrelenting misery of internment at the Minidoka camp, and the pain and loss of internees as they returned home after the war to face dispossession and poverty. This history through the eyes of the fictional Hanae grips the reader with its lively writing and evocative imagery while sharing an important and heartbreaking chapter from our American experience. Yet it is also a story of hope and triumph despite recurrent traumas—and quite timely as we face an unprecedented pandemic and political crises today.
Dr. Matsuda is known in Seattle as a voice for social justice, equality, and tolerance. He is a former secondary school teacher, administrator, principal, and professor. He received an MA and PhD at the University of Washington
San Piedro Island, a fictional island north of Puget Sound, is a place so isolated that no one who lives there can afford to make enemies. But in 1954 a local fisherman is found suspiciously drowned, and a Japanese American named Kabuo Miyamoto is charged with his murder. In the course of the ensuing trial, it becomes clear that what is at stake is more than a man's guilt. For on San Piedro, memory grows as thickly as cedar trees and the fields of ripe strawberries–memories of a charmed love affair between a white boy and the Japanese girl who grew up to become Kabuo's wife; memories of land desired, paid for, and lost. Above all, San Piedro is haunted by the memory of what happened to its Japanese residents during World War II, when an entire Japanese American community was sent into exile while its neighbors watched. Gripping, tragic, and densely atmospheric, Snow Falling on Cedars is a masterpiece of suspense– one that leaves us shaken and changed.
Author David Guterson was born in Seattle, WA and currently lives on Bainbridge Island. He taught at Bainbridge Island High School for 10 years before becoming a professional writer.
The 1942 wartime incarceration of Japanese Americans has come to be seen as one of the most massive violations of civil liberties in the history of American law. Racially motivated and fueled by a malicious campaign of misinformation, it forced 120,000 Americans to abandon their property and homes. Most were American citizens. One of the largest and most remote of America's concentration camps was Idaho's Camp Minidoka in Jerome County, near Twin Falls, ID. The story, tragic yet triumphant, raises enduring questions about racial profiling, military authority and the hysteria of war. This 200 page art book and tribute presents 10 intriguing essays in an elegant hardcover volume of poetry, rare prints, historical photography, and original artwork.
Surviving Minidoka is a history book about the present as much as the past. It is a book about how about how an event shaped race relations more than a story about the event itself.
In the spring of 1942, the United States rounded up 109,000 residents of Japanese ancestry living along the West Coast and sent them to detention centers for the duration of World War II. Many abandoned their land. Many gave up their personal property. Each one of them lost a part of their lives.
Amazingly, the government hired famed photographers Dorothea Lange, Ansel Adams, and others to document the expulsion—from assembling Japanese Americans at racetracks to confining them in ten camps spread across the country. Their photographs, exactly seventy-five years after the evacuation began, give an emotional, unflinching portrait of a nation concerned more about security than human rights. These photographs are more important than ever.
Authors Richard Cahan and Michael Williams—noted photo historians—took a slow, careful look at each of these images as they put together a powerful history of one of America's defining moments. Their book consists of photographs that have never been seen, many of them impounded by the U.S. Army. It also uses primary source government documents to explain and place the pictures in context. And Un-American relies on firsthand recollections of Japanese Americans survivors to offer a complete perspective.