In Defense of our Neighbors: The Walt and Milly Woodward Story, a book by Mary Woodward
During WWII most newspapers were silent on the Japanese American exclusion or else actively supported it. When the war was finally over, many West Coast communities tried to prevent their former neighbors from returning home. On Bainbridge Island it was just the opposite. Milly and Walt Woodward, editors of the little local paper The Bainbridge Review, consistently spoke out against the exclusion. They ran weekly accounts of significant events in the exiled Islanders' lives, reported back by high school students–paid as correspondents–in the concentration camps. With the end of the war, the Woodwards and other Islanders welcomed their neighbors home with little incident.
In most West Coast communities the public positions of politicians and the media made it difficult for opponents to speak up. On Bainbridge Island it was the supporters of the exclusion who were apt to keep their opinions to themselves. In Defense of our Neighbors, a new book by the Woodwards' daughter, Mary, released in November 2008, records how The Review helped create an environment that was friendly to those who, like the editors, strongly opposed the exclusion.
Contemporary newspaper articles, oral histories of the exiles and other Islanders, and vivid photographs and images combine in this lively and visually attractive, history. A portion of the proceeds will benefit the Nidoto Nai Yoni–Let It Not Happen Again–Memorial.
Ordering the Book
BIJAC is currently acting as the distributor for this book.
Retail Orders:
Order through the mail:
Use the Book Order Form (PDF) and mail it with check made payable to BIJAC.
Order Online at the BIJAC Shop
$24.95 + $2.15 tax (for orders delivered in Washington state)
Shipping takes approximately 7–14 business days.
Wholesale Orders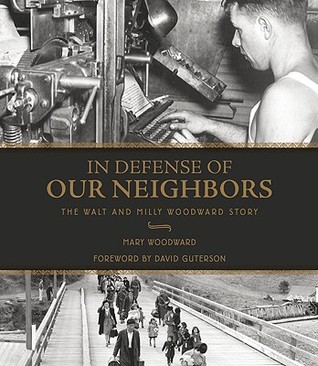 If you are a retailer and would like to purchase books at the wholesale price please contact us at info@bijac.org. You will need to provide BIJAC with a copy of your Retailers Certificate or equivalent. We can also help you to arrange a book reading event with the author, Mary Woodward.
In Defense of Our Neighbors: The Walt and Milly Woodward Story
By Mary Woodward — Forward by David Guterson
8.5 x 10 inches — 152 pages — 150 images — Full color throughout
$24.95 Hardcover — ISBN 13:978–0–974510–7–2
Fenwick Publishing — Publication date: November 2008
Learn more about the Woodward Fund