The Japanese American National Museum has announced its support of several Day of Remembrance 2021 events hosted by partners. Events run from February 13-27, 2021.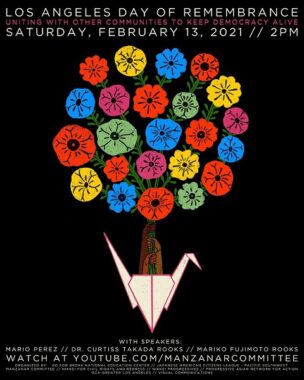 Uniting with Other Communities to Keep Democracy Alive
Sat., Feb. 13 at 2pm (PST)
Watch on the Manzanar Committee's YouTube channel
"Please join us for the Los Angeles Day of Remembrance in commemorating the signing of Executive Order 9066 which led to the forced removal and incarceration of 120,000 persons of Japanese Ancestry. With speakers Mario Perez (Immigrant Justice Fellow at the Inland Coalition for Immigrant Justice), Dr. Curtiss Takada Rooks (Program Coordinator of Asian Pacific American Studies), and Mariko Fujimoto Rooks (senior at Yale University)."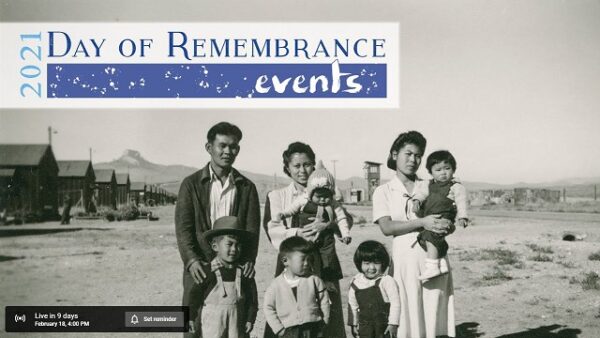 Day of Remembrance 2021: Preserving Identity & Culture
Thurs., Feb. 18 at 4pm (PST)
Watch on the HMWF's YouTube channel
"When the US government incarcerated Japanese Americans during World War II, it also made a concerted effort to pressure the young Nisei generation to assimilate into the American culture at large and abandon the Japanese parts of their culture. Japanese American culture, however, proved more resilient than the government could imagine. Nearly 80 years later, in a climate of peaceful US-Japan relations, many Japanese Americans still hold fast to or seek out community and tradition, even as they look ahead to the future. Join an intergenerational panel of luminaries for a frank and personal discussion of identity and cultural survival in the 21st century.
This program is provided through the support of the Embassy of Japan in the United States."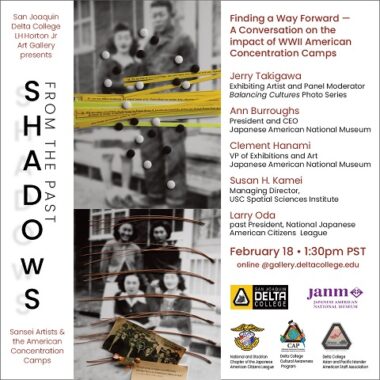 Finding a Way Forward—A Conversation on the Impact of WWII American Concentration Camps
Thurs., Feb. 18 at 1:30pm (PST)
Join the Zoom Conference
"Virtual panel discussion in association with new exhibition, Shadows of the Past: Sansei Artists and the American Concentration Camps, curated by Gail Enns.
Exhibiting artist Jerry Takigawa will preside as moderator and present his photographic series, Balancing Cultures. Panelists: Larry Oda, past President of the JACL; Susan H. Kamei, Associate Director of the Spatial Sciences Institute, USC; Ann Burroughs, President and CEO, JANM; Clement Hanami, VP of Exhibitions and Art, JANM."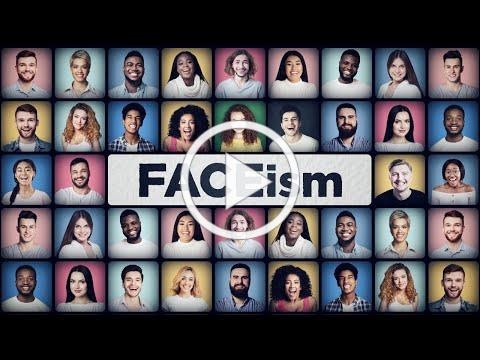 FACEism: A panel discussion on history and accountability
Fri., Feb. 19 at 3pm (PST)
Watch on the National Museum of American History's YouTube channel
"Join this Day of Remembrance panel to commemorate the thousands of people affected by this human rights abuse. Our discussion this year features news anchor and filmmaker David Ono and his documentary series FACEism, which examines how racism is rooted in often ignored and painful histories. Panelists will consider the documentary and explore how community activists further discussions about history, accountability, and injustice in our past, present, and future.
Modupe Labode (Moderator), Curator, Smithsonian, National Museum of American History. Panelists: David Ono, Anchor for ABC7 Eyewitness News LA; Ann Burroughs, President and CEO, Japanese American National Museum; Cheyenne Cheng, Norman Y. Mineta Fellow for the Japanese American Citizens League; and Matthew Weisbly, Daniel K. Inouye Fellow for the Japanese American Citizens League."


What Does It Mean to Be an American?
Sat., Feb. 20 at 10am (PST)
Register Here with the Mineta Legacy Project
"What Does it Mean to Be an American?" in observance of the Day of Remembrance, is a webinar for teachers and educators to introduce a powerful learning tool designed to engage and empower students. Developed by the Mineta Legacy Project in partnership with SPICE (Stanford Program on International and Cross-Cultural Education), this innovative free online curriculum offers six unique and customized lessons tailored for educators, high school students, and college students to examine what it means to be American. Presented by curriculum developer Rylan Sekiguchi, SPICE; and Dianne Fukami and Debra Nakatomi, co-producers of the Mineta Legacy Project; the program will feature a 45-minute tour examining history, identity, and current events exploring 6 themes: Immigration, Civil Liberties & Equity, Civic Engagement, Justice & Reconciliation, Leadership, and U.S-Japan Relations.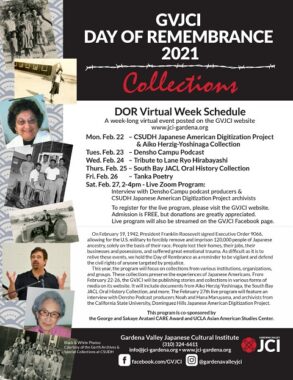 Remembering History. Empowering the Next Generation
Sat., Feb. 27 at 2pm (PST)
Register Here
Each year, the Gardena Valley Japanese Cultural Institute (GVJCI) holds its annual Day of Remembrance (DOR) which commemorates the incarceration of Japanese Americans during WWII. A different theme and related film is selected each year, and a panel of experts is carefully selected to help further educate the community on the events, experiences, and lessons that should be learned from this time in American history.