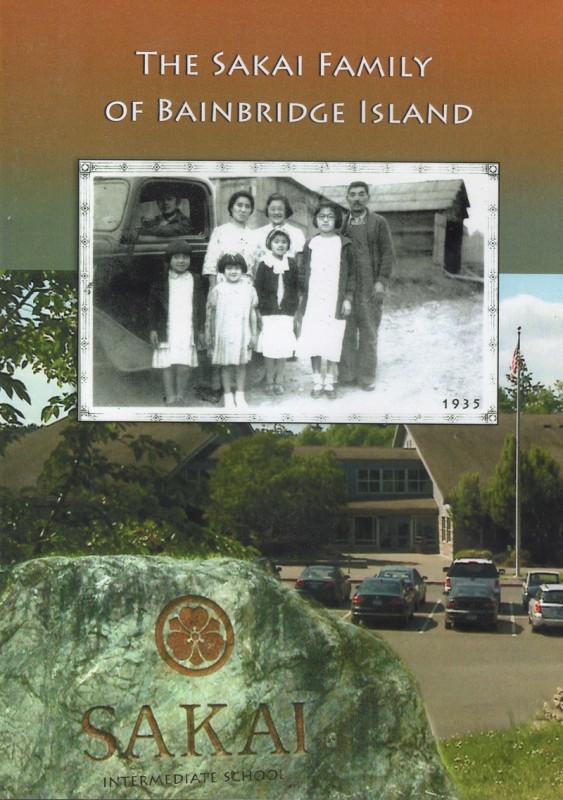 The Sakai Family of Bainbridge Island is a documentary commissioned by the Parent Teachers Organization of the family's namesake Sonoji Sakai Intermediate School and the Sakai Arts and Traditions Committee. After World War II, the Sakai family returned from the concentration camps to their Bainbridge Island farm. Several years later the school district approached the family and asked if they would be willing to sell part of their farm at the corner of Madison Ave and High School Rd. The Sakai family had a deep reverence and appreciation for education–the Bainbridge School District had educated the Sakai children. Sonoji Sakai sold their land to the school district for the original price they had paid for the property before they had transformed it into a lucrative strawberry farm. In honor of that relationship, in 2000 Sonoji Sakai Intermediate School opened.
In the film, Kay Sakai Nakao and her four sisters take us through an oral history of the family. It begins with life before World War II–her parents immigrating from Hiroshima, Japan, working on the family strawberry farm, and becoming more prosperous. By 1936 they were able to build a new house with running water and electricity. The film then takes us through their first-person stories of the advent of World War II, the impact of EO 9066 on their family, and life in concentration camps in Manzanar, CA and Minidoka, ID. While in Minidoka, Kay, the oldest daughter, marries fellow Bainbridge Islander Sam Nakao (born in the original Japanese town of Yama) and gives birth to her first son. The film ends with the family's return to the farm and their father's sale of their property to the school district.
The Sakai Family is a delightful film in large part due to the humor and candor with which Kay tells the family story and how relatable she and her sisters are as they reminisce about their family's remarkable history on Bainbridge Island. The Sakai Family of Bainbridge Island was produced by Cameron Snow, Snow Productions BI, in 2015. The film runs 60 min.
The Sakai Family of Bainbridge Island is now available for purchase in our online store: https://www.bijac.org/shop.