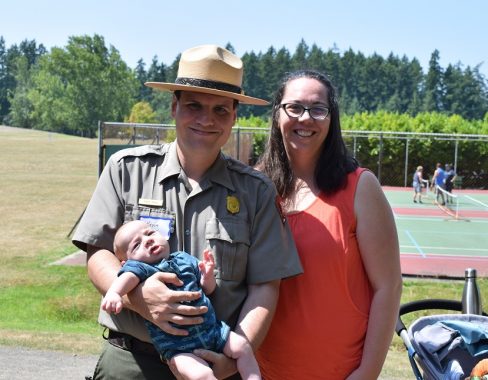 The first time Kevin Mahé sat down at a monthly BIJAC meeting he seemed prepared. Not just "prepared," but maybe "knowledgeable"–a budding historical scholar of the Japanese American Exclusion. Clearly, he had done his homework.  He introduced himself as the new National Park Service Ranger who would seasonally man the trailer, greeting and providing historical perspective to visitors at the Exclusion Memorial. He was formerly a ranger at the North Cascades National Park (Stehekin) and Olympic National Park (Hoh Rainforest). Most recently he had worked as a Park Guide at the Klondike Gold Rush Historical Park in Seattle. He originally hails from New Orleans, Louisiana. Yes, NOLA.
That meeting was two and a half years ago. Since then, Ranger Mahé has tallied and greeted hundreds of guests at the Memorial and established himself as a reliable partner and good friend to BIJAC. He has brought to the job a high level of professionalism and an obvious appreciation for history and education. He helped develop and launch a new Junior Ranger program at the site to engage young visitors. And, as visitors know, when Kevin tells the story of the Japanese American Exclusion on Bainbridge Island, he speaks with conviction and a belief that we must defend the intent of the constitution and protect our neighbors' rights in the face of injustice. His outlook is positive.
During his time at the Memorial he has worked side-by-side with survivors, community members, and his fellow NPS colleagues from the Minidoka National Historic Site, developing a deep understanding of the story from many different perspectives. He speaks fondly of the people he has met here on Bainbridge Island.
That is why we will miss him so much. 
Ranger Mahé will be on site at the Memorial for the next three Saturdays: Nov 28th, Dec 5th, and Dec 12th. Then, he will bid us farewell. 
Kevin, his wife, and 1-1/2 year old son are about to embark on a new adventure with a capital "A". He has taken a position with the NPS at the Skagway, Alaska branch of the Klondike Gold Rush National Historical Park, a job for which he is perfectly suited given his background working with the Seattle branch. The largest city in Alaska during the Klondike gold rush,  Google tells us that Skagway is 1,600 miles from Seattle; a 31 hour drive by car, 100 miles from the nearest major airport in Juneau, or a leisurely 60-1/2 hour ferry ride from Bellingham. It averages 262 inches of snow per year. The population as of 2019 was 1,183. Adventure.
Ranger Mahé's love of learning and commitment to education will serve him well in his new position. With great fondness, we wish him and his family all the best.
Kevin and Anna Tamura, Acting Superintendent of Seattle Area National Park Sites, have reached out seeking candidates to fill Kevin's formidable shoes. The NPS office for the position will be in Seattle, with time spent at both the Memorial on Bainbridge and the Klondike Gold Rush NHP-Seattle Unit in Pioneer Square. "We're looking for someone with experience working with a diverse public, community groups, and interns. An understanding and background with the WWII Japanese American incarceration history is very beneficial." 
Anyone interested in the job posting are invited to reach out to: Anna_Tamura@nps.gov or Kevin_Mahe@nps.gov. The job is listed on usajobs.gov.