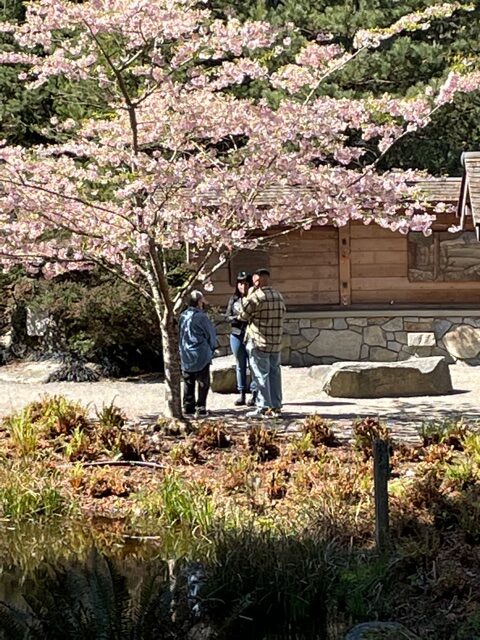 Visitors Ingrid and Christian from Riverside, CA tour the Exclusion Memorial with Lilly Kodama
Spring has Sprung at the Memorial
Recent beautiful Spring weather has brought a steady stream of visitors to the Bainbridge Island Japanese American Exclusion Memorial to walk the wall, view the newly completed departure deck, and contemplate under the cherry trees bursting with fresh blooms. With most Washington counties now in Phase 3 of re-opening, the National Park Service expects to welcome new on-site ranger Logan Wegmeyer to his post Thursdays through Sundays beginning in late May. Exact dates and times will be announced soon. Until then, visitors are welcome to do a self-guided tour, or, guided tours are being conducted by request on a limited basis. The Exclusion Memorial is open during daylight hours.
New for Junior Visitors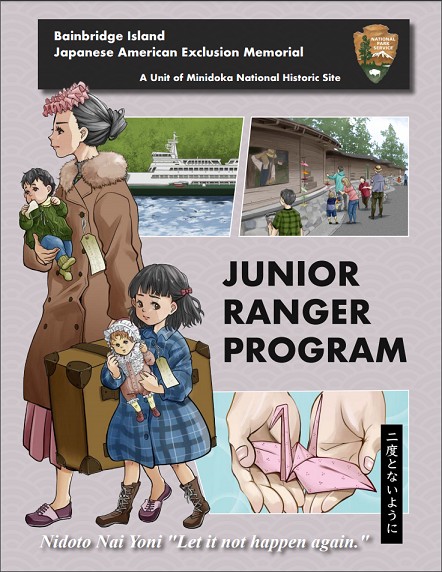 Also new this Spring, the National Parks Service is launching its new Junior Ranger program at the Memorial. After a years of development, the program will be presented via a 16-page, custom designed booklet outlining various activities targeted to children ages 6 and up. The Program will take approximately 30-60 minutes at the Memorial. Like other Junior Ranger programs available at National Parks throughout the country, the new program enables youngsters to immerse themselves and experience the site in an age appropriate way. Early reviews are very positive!
The Departure Deck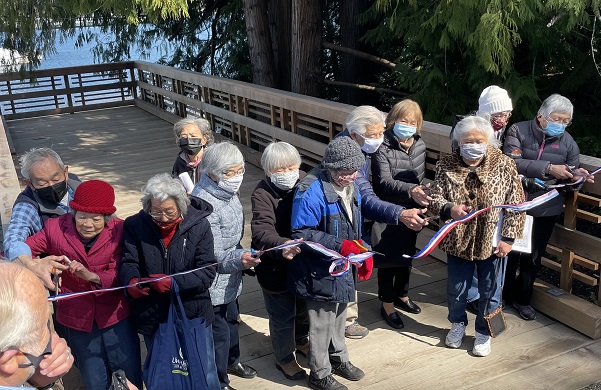 The must-see, new Departure Deck was christened with a survivor ribbon-cutting ceremony on March 30th. The new deck reaches out toward Eagle Harbor, reminiscent of the ferry dock leading to the Kehloken, the ferry that carried Bainbridge Islanders away from the island on their journey to Manzanar. BIJAEMA is currently in the process of developing installation art meant to enhance the experience of following in the footsteps of incarcerees as they left, fearful and uncertain of what was to come.
Docents Wanted
Are you an incarceration Survivor? Have you completed the BIJAC training program? Are you knowledgeable about the history of Japanese Americans on Bainbridge Island? BIJAC is looking for more volunteers to lead tour groups at the Exclusion Memorial. If you are interested, please email info@bijac.org.
Check back often for updates on what's new at the Memorial.