Part of Executive Order 9066 at Eighty
March 11 – Jun 12, 2022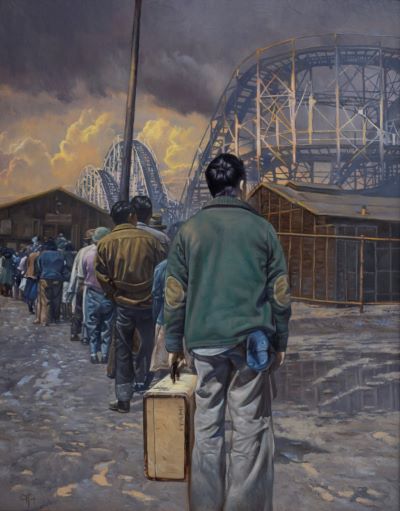 Camp Harmony
Chris Hopkins, 2014
Americans Incarcerated: A Family's Story of Social Injustice is an evolving collaboration between Jan and Chris Hopkins (Everett, WA) to memorialize the eviction of Japanese Americans during World War II. Executive Order 9066, issued by President Franklin Roosevelt on February 19, 1942, authorized the evacuation of all persons deemed a threat to national security from the West Coast. Over 100,000 adults and children of Japanese ancestry were sent to assembly centers, then housed in guarded facilities known as internment camps.
Their exhibition is inspired by Jan's desire to learn more about her cultural identity. As a child of interned Japanese Americans, she grew up with little knowledge of her heritage or what her family endured. The journey begins with the story of Jan's parents, who met at Camp Harmony, a temporary processing facility at the Puyallup Fairgrounds.
This exhibition coincides with the 80th Anniversary of the Japanese American Exclusion from Bainbridge Island on March 30 2022, the first such removal of West Coast residents. In 2018, Jan and Chris Hopkins displayed Americans Interned: A Family's Story of Social Injustice at the Schack Art Center in Everett, where they received an Artists of the Year award and have continued to expand this project.
Where:
Bainbridge Island Museum of Art, 550 Winslow Way E, Bainbridge Island, WA  98110
Open 10AM – 5PM