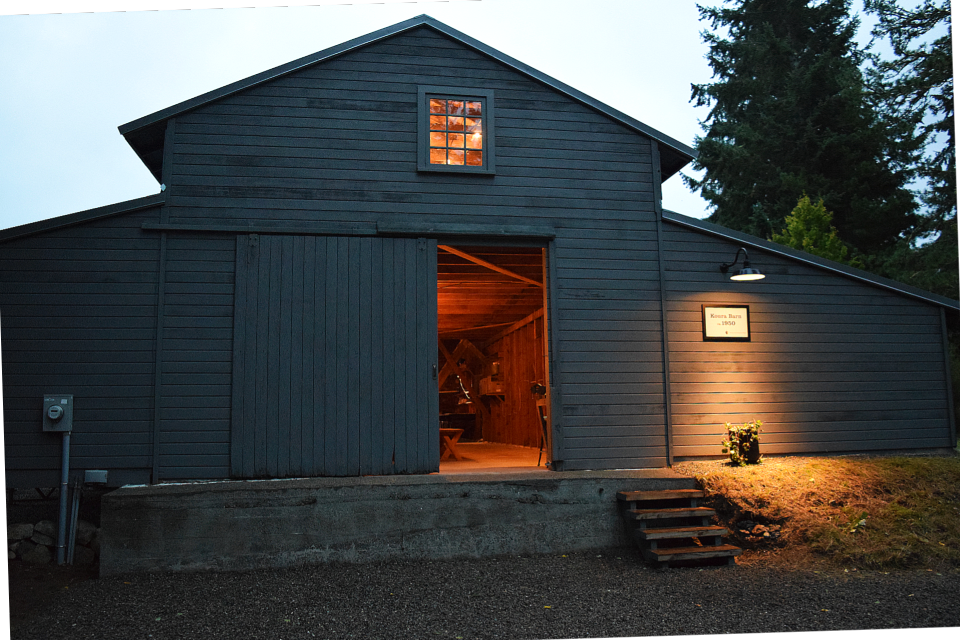 An inviting, socially-distanced, open house was held on Saturday, October 29, 2020 to re-introduce a Bainbridge Island landmark: Art Koura's Barn. Renovation of the large, 60'x45′ barn, which was built in 1953 on the 190-acre Koura strawberry farm, was made possible by the efforts of current owners Kim and Steve Screen and a Heritage Barn Grant awarded by the Washington State Department of Archaeology and Historic Preservation.
The barn has been vacant for years as the neighborhood around it transitioned. There were rumors of it becoming a house, an apartment, a construction space, paddleboard manufacturing, and just plain storage. Friends of the Screens gave them the idea they liked best and that ultimately became their vision–a community barn. In addition to restoring the barn, Kim explained that they had planned to build a home near the barn. However, the family's situation recently changed, and the lot, permitted house plan, and barn were listed for sale.
The History
"Newcomers" to the Island may have walked past the barn–located on what is now known as Yukio Lane in the Meadowmeer neighborhood–numerous times without knowing its significance. With its new coat of stain, brand new metal roof, and quiet, bucolic setting, one would never know that it was once a hard-working hub of activity.
While the doors and windows lining the south side of the barn are reminiscent of horse stalls, they were, in fact, a series of "pickers quarters" to house field hands and harvesters who came to the farm for the annual harvest. Pickers began with flashlights at 4 a.m. and continued to 9 p.m. Hundreds of farm workers and berry pickers came to help–many were First Nations families from Vancouver Island whom Art helped transport to the island with an old school bus. Other pickers commuted from around the Island and the County.
Where now a huge slab table sits for gatherings and hosting children's educational programs, the barn once stored field equipment, berry harvesting gear, and shipping containers. It is said that Art once rallied to fill a 1,000 flat order for a major Seattle grocer.
Yes, the Koura strawberry farm was that big.
The Koura Family
Local historian, Gerald Elfendahl, was friends with the Koura family and has over the years documented a great deal of their history. According to Elfendahl, "In 1919, Otohiko and Hatsuko Koura strapped on their year-old son [Art] and came to Bainbridge Island by steamboat to pick strawberries." They subsequently left their Seattle home and cafe business in 1920 to try their hand at farming. 
The Kouras first owned a seven-acre farm near where the Bainbridge Public Library now sits. With the Winslow farm's success, Otohiko moved the farm to Manzanita. With the state's prejudicial Alien Land Law in force during that time, U.S.-born, 18-year-old Art became "owner" of the family's 80 acres. He helped clear the land.
Art graduated from Bainbridge High School in 1937 and, turning down a college scholarship, worked hard on the farm instead. After Pearl Harbor, however, the FBI took Art's father for a time, as they did all Japanese community leaders. Art, the eldest Koura son, offered to help the war effort from the farm. Instead, Art and his family were forcibly removed with over 120,000 other Japanese and Japanese Americans by Executive Order 9066 and taken to concentration camps in Manzanar, CA. The Koura family was subsequently transferred to Minidoka, ID, where Art's father was reunited with the family, and Art married Florence Yoshitake.
Art and his brother Noboru enlisted in the Army's highly decorated "Go For Broke" 442nd Regimental Combat Team. While serving in Italy, Art nearly lost his left arm in the battle near Bruyeres, France.
Art and Flo Koura returned to the Island after the war and, despite his injury, threw himself back into farming. As with other fortunate Japanese American farmers on Bainbridge Island, the Kouras were helped by local families during their internment. The Raber family had helped look after the Manzanita farm and with Maldur Flodin had helped berry farm acreage grow to 180 acres, the island's largest ever. Art and Flo's family grew, too, with a son and daughter. A new and larger barn was built that still stands in its renovated glory on Yukio Lane. Sadly, Koura farm yielded to California berry competition in 1964. It was sold to become Meadowmeer subdivision and golf course.
Yukio Lane
Today, the Koura Barn resides on a side street off NE Bay Hill Rd called Yukio Lane. According to historian Gerald Elfendahl, there is some confusion over how "Yukio" was chosen. His belief is that the street was named to honor Art Koura and that "Yukio" may have been meant to reflect Art's Buddhist name. The Buddhist name, or Homyo, is an honorary title signifying that one has become a true follower of the Buddha. Upon his death, according to the Seattle Betsuin Buddhist Temple, Art Koura was conferred the name "Shaku Ei Do," which means "honoring the past."
In fact, "Yukio" was Art's middle name. Elfendahl would love to see the street's name changed to Art's beautiful and poetic Buddhist name. "I know establishing road or lane names can be difficult to change," says Elfendahl, "however, please see if the neighbors on the lane might consider a correction to the intent of the name to either 'Honor the Past Lane' or 'Shaku Ei Do Lane,' or perhaps it is enough that we are honoring the past in restoring their barn and seeing it grow to serve the community again."
The Linden Tree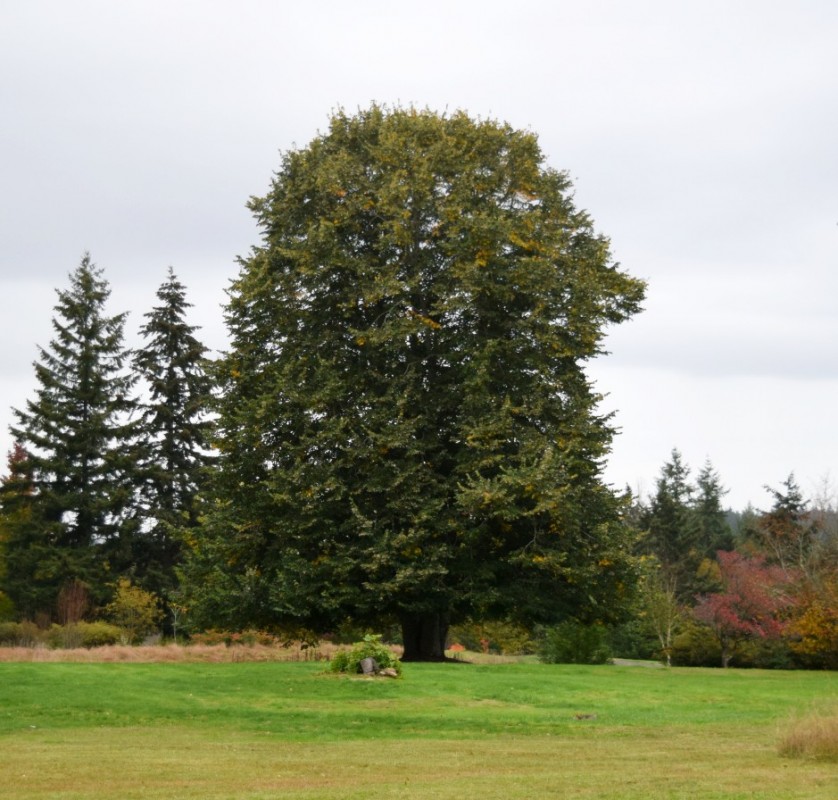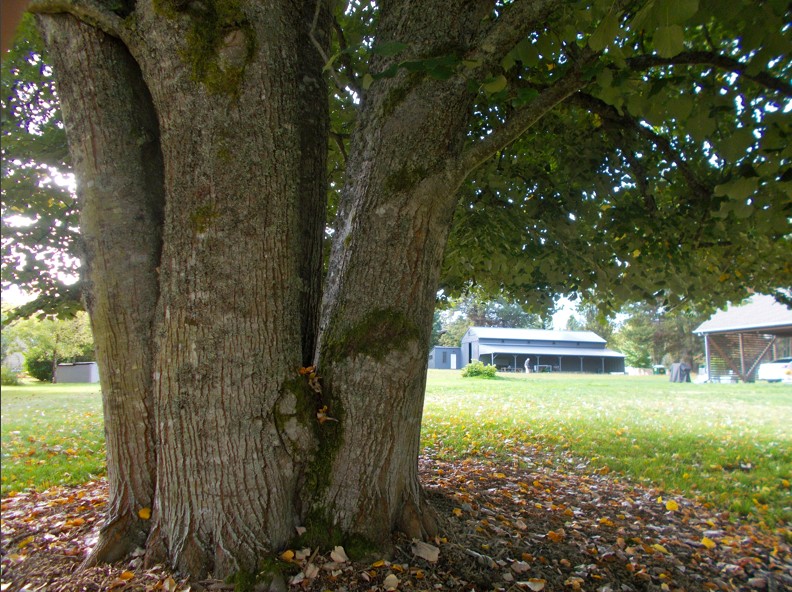 Just east of Koura Barn, near Art and Flo's former home site, stands a formidable tree that the eye cannot miss. The tree's circumference is 16'5″! It is believed the tree may have been planted by Art Koura's parents.
According to Olaf Ribeiro, plant pathologist and arborist, "The linden tree is fast growing and has many uses. Linden has been used to induce sweating for feverish colds and infections, to reduce nasal congestion, and relieve throat irritation and cough. Linden has sedative effects and has been used to treat nervous palpitations and high blood pressure. It has also been added as an ingredient in lotions to relieve itchy skin. They say every part of the linden tree is edible including flowers, sap and bark. No wonder the pioneers loved to plant linden trees wherever they went!"
Reminiscing with Art and Flo
In 2003,  Gerald Elfendahl sat down with his friends Art and Flo Koura and reminisced over home movies about how the farm once was. Their conversation formed the basis for a Bainbridge Review article. The full text of his article about the 2003 Strawberry Celebration can be found here.
A STRAWBERRY CELEBRATION
It was the week after Father's Day and I thought I'd stop by to visit one of my favorite Island fathers– Art Koura. He and his lovely wife, Flo, live on part of their old 180-acre strawberry farm. So do a hundred or more other families– and hundreds more golfers! You see, Art and his family's former farm is now Meadowmeer!

…Today, Art and Flo live in the same spot atop Bay Hill Road. The berry farm's barn and shed still stand south of the house. Once, to the east, they overlooked a half-mile of lush berry fields, and to the west, scenic vistas of Manzanita Bay, Keyport and the Olympics. Trees and houses now fill the views. 

…I sat in continued amazement as we shared home movies he'd taken in 1951 and '52. First, were films of the Blossom's and Peterson's bulldozers digging the huge irrigation pond which sits today at the south end of Blue Pond Road next to Meadowmeer golf course's 4th and 13th tees. Its spring fed water was pumped to thirsty berries, not putting greens and fairways. We saw '50's county agriculturists inspecting the irrigation system and children fishing in the pond. Art laughed and recalled how a dozen or so fingerlings he planted grew into large fish for the kids to catch. Their size surprised everybody! They were longer than a daily newspaper is wide! Not only did the pond feed the farm, it also provided winter recreation. We smiled as Art and friends zipped wobbly-legged around the frozen pond on ice skates.

…Still, every time we visit Meadowmeer, watch folks enjoying a round of golf in that beautiful landscape, walk into a dense Island forest and think what it took to create agricultural land from it, and, yes, whenever we savor a fresh local strawberry the caterpillars haven't ravaged, we'll envision the hard work that went into clearing the land for the Island's berry farms and think fondly of Art and Flo, two of the Island's very special people.

Gerald Elfendahl, (c) 2003