Satoru "Sat" Sakuma
March 30th, 2022 was a very special day. As a volunteer helping to organize the extensive media coverage at the Bainbridge Island Japanese American Exclusion Memorial, the day was exciting and frenzied. How many would show up? Where could all the cameras fit? Would they block the view? Then, the families started to arrive. As the bijac.org webmaster, I had memorized the names, faces, and stories. There was Sally Kitano in the flesh. There was Nobi Omoto. Oh my gosh, could it be Natalie Hayashida–the baby from the iconic photo!?!
As the day progressed, much of the crowd moved to the Bainbridge Island Museum of Art for a sushi luncheon. It was there the flag-signing project was set up on stage in the auditorium.  The World War II era, 48-star, American flag(s) had been traveling the United States with the goal of inviting all survivors of Japanese American concentration camps during WWII to sign the flag. One-by-one, survivors made their way up to the stage, Sharpie in hand, to sign their names and note in which camp they were incarcerated. Gently, an elderly man was helped up to the stage by his family, and he carefully spelled out his name on the flag: Sat Sakuma.
"Would you like to add a note saying where you were during the war?" the kind lady manning the table asked.
Carefully, Mr. Sakuma began to draw out the numbers and letters, "4-4-2 Vet."
I felt a lump in my throat. Maybe it was because my own grandfather's name was also Satoru. Or maybe it was because this man looked to be about the same age as my father would have been on March 30th. Here was proud and able man, clearly beloved by the family members who had accompanied him all the way to Bainbridge Island for the occasion of the 80th commemoration of the forced exclusion of Japanese Islanders.  I was honored and deeply touched to witness the signing of the flag by Satoru Sakuma. Here stood a hero.
"Sat Sakuma 442 Vet"
It wasn't until a few weeks later that I toured the exhibit at BIMA, which featured the art of Jan and Chris Hopkins. There I learned more about Satoru Sakuma and his history.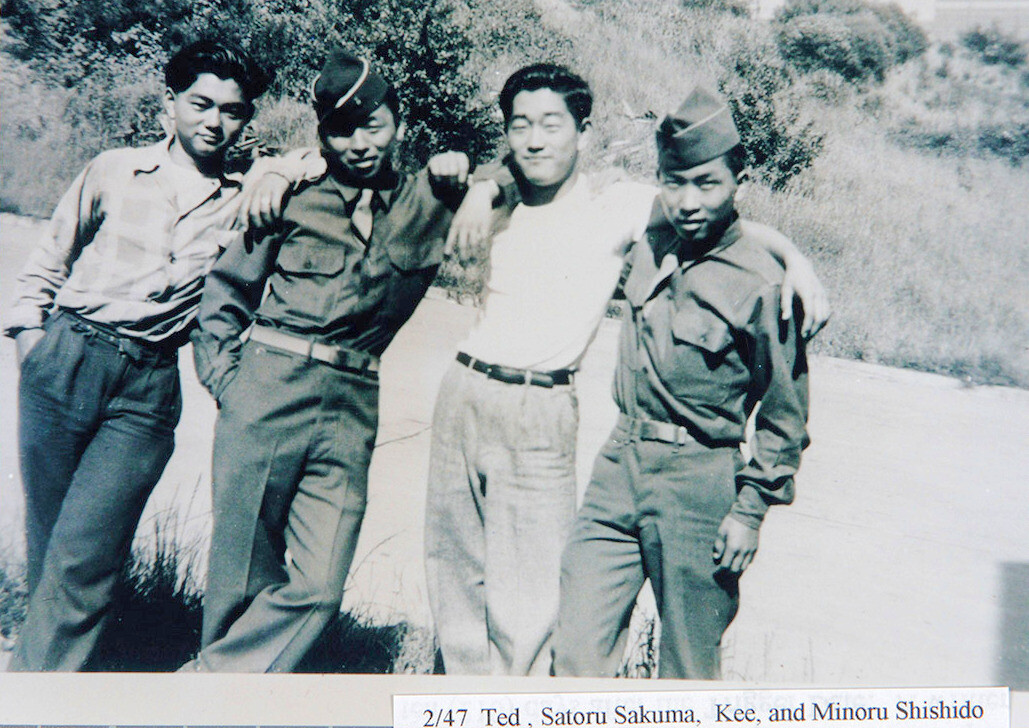 Sat Sakuma and friends, February 1947 (credit: BIJAC Collection)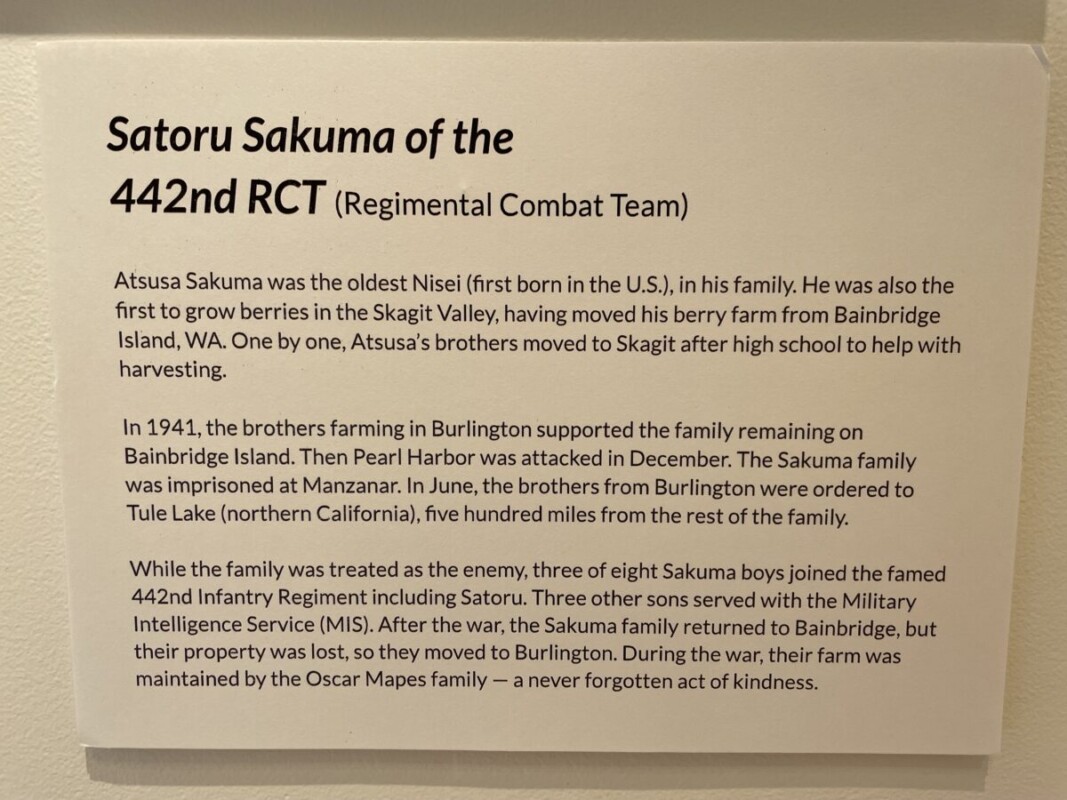 Family story (BIMA)
Painting by artist Chris Hopkins (BIMA)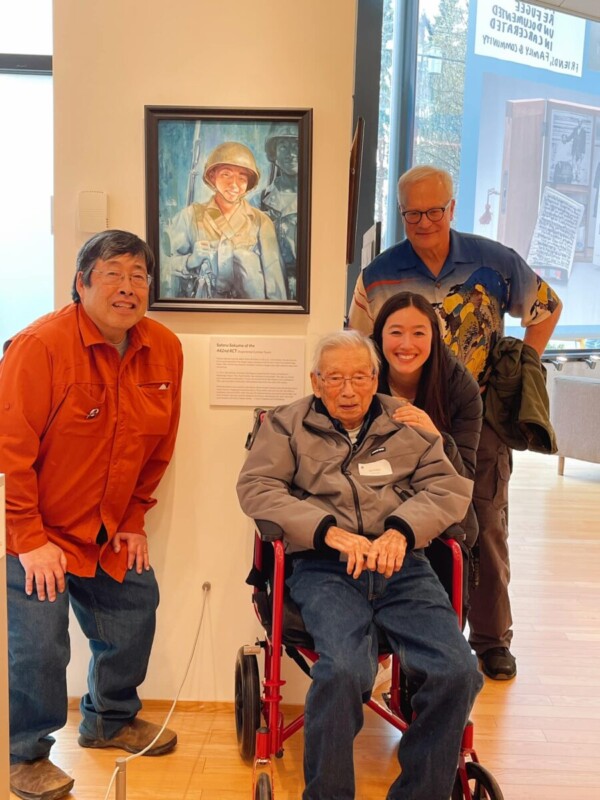 Sat and his family at the BIMA exhibit with artist Chris Hopkins (credit: Natalie Sakuma)
It is with heavy hearts that BIJAC learned of Sat's passing on May 17, 2022 at the young age of 96. We are honored to have had him in our midst, grateful that he and his family made the trek from the Skagit Valley to Bainbridge Island for one final moment to reflect on March 30th, 1942, and heartbroken to have lost such a beloved and decorated survivor. His granddaughter, Natalie Sakuma, remembered him on social media with these poignant words:
My grandfather, Satoru Sakuma, lived the most breathtaking 96 years of life. He was a survivor of the Japanese Internment Camps (the second family in the entire US to be interned), WWII veteran, member of the most decorated battalion in US history, Congressional gold medal recipient, starter of a successful farming business even after losing all of their possessions due to the simple fact of being a Japanese American, and he was, even after all of this, the most giving, kind, and humble human being you could ever find.

Satoru Sakuma was a hero, a warrior, a fighter, a lover, a giver, a sacrificer, a father, a grandfather, a brother, a leader, a peacekeeper, a forgiver, a trailblazer, an encourager, and a protector. He inspired countless lives, he loved boundlessly, he forgave endlessly, he protected fearlessly, and he gave hope to so many.

You were our rock. Our stronghold. And our protector. Words cannot describe the pain our family feels with your absence. But we are enormously grateful for the life we were able to live with you and because of you.

You are loved more than you could ever imagine grandpa.

We love you endlessly. And forever.
1925 – 2022
Thank you for sharing, Natalie.
~ Ellen Sato Faust, BIJAC Webmaster