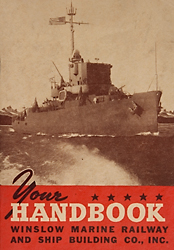 In the morning of Sunday, December 7, 1941, Japanese bombers attacked the U.S. Pacific Fleet based at Pearl Harbor, Hawaii. There were more than 4500 casualties. The next day, President Franklin Roosevelt declared war on Japan. Bainbridge Islanders, along with all Americans, were stunned–and frightened.
There are many military and strategic facilities in Puget Sound and Bainbridge Island sits in the center of Puget Sound. "I think everyone was scared. There was an explosion at the shipyard one night that had us all thinking we were being bombed," said Milly Woodward, local newspaper editor.
Slideshow
The US entrance into World War II brought sudden change throughout the country as well as to Bainbridge Island. The Winslow Marine Railway and Shipbuilding Company prospered during the war, providing work for several Bainbridge Islanders and many more from Seattle. The U.S. Navy took over Fort Ward, located on the Island's southern shore, where a radio school and top–secret listening post were stationed.
The federal government created the Office of Civilian Defense to help organize state and federal efforts to protect civilians in the case of a war emergency. Locally, block wardens were appointed to make sure every family and individual on the Island was provided with the necessary assistance in the case of an emergency. Across the country civilians rallied to support the war effort by purchasing war bonds, rationing food and materials, registering for the draft, and supporting the troops.
Photo Information: Handbook, circa 1942–1945 — Winslow Marine Railway and Ship Building Company Handbook, circa 1942–1945. Copyright: Bainbridge Island Historical Society, Bill Weld Collection. Digitally photographed by Fenwick Publishing.